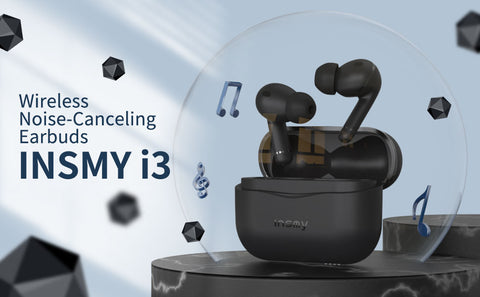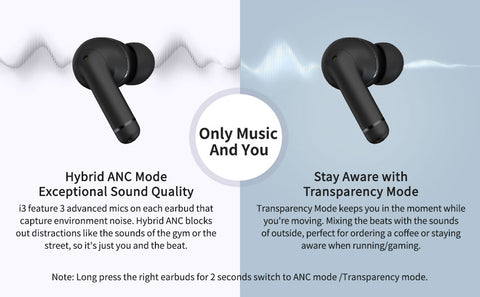 Sweat & Weather Resistant

With an IPX5 rating thanks to the protection material, splashes and sweat cannot stop your workout. It's okay to wear them out in the rain, snow, sleet, or hike, run.
Advanced Low Latency Algorithm

Watching video or playing game on your smartphone or tablet? The advanced wireless connection on INSMY i3 Bluetoooth earbuds make the audio and video synchronization is more immersive. What you see on screen precisely with what you hear on your devices for more enjoyable viewing.

 
6 Microphones Clear Hands-Free Calling

Our wireless headphones with microphone have 6 built-in microphones, dual anti-wind noise structure, plus integrated call noise reduction technology, jogging or cycling, weaken wind interference, and still communicate clearly. As a result, whether you're on a call or using your virtual assistant, your voice is the focus.
Reliable Wireless Connection

Optimized antenna design provide a stable connection of high-quality wireless streaming. You'll enjoy a strong and consistently reliable connection as long as you're within 100 feet of your paired device.
Handy Magnetic Charging Case

The compact charging case not only keep your headphones secure, but holds a further 4 full charges letting you power up on the go. Put your wireless headphones back into the charging case and they'll nestle into place with a satisfying snap thanks to a magnetic interior. A USB-C cable lets you recharge the case quickly and easily. The exterior LED lights clearly show the battery status of your charging case. The instant you take them out of the case, the earbuds begin pairing with your device.
What's in the box

With 3 sizes of comfort earbuds, you can find the perfect fit for your ears to maximize sound quality and minimize outside noise.

 


i3 Earbuds (fitted with M eartips)

A USB-C charging cable

A charging case

Quick start guide

S/M/L size eartips (Totally S/M/M/L 4 pairs)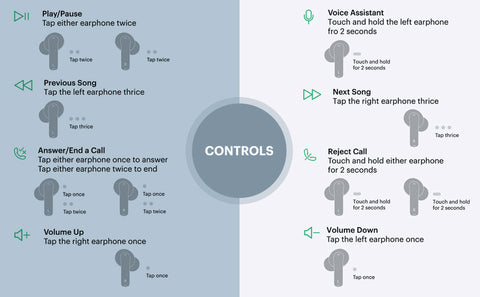 Troubleshooting for Low Volume
Most Android phones do not support volume synchronization (the volume of the phone and the volume of the earbuds need to be adjusted separately). When the wireless earbuds are connected to the phone, adjusting the volume of the phone only increases the volume of the audio source. If the volume of the earbuds are not adjusted, music still low sound. The earphones volume need to be turned up through tapping the earphones.